Introduction
MANAGING THE EMPLOYEE EXPERIENCE – WE HAVE ANSWERS FROM THE INDUSTRY'S TOP TALENT LEADERS
如何管理员工体验?我们从业内顶尖的人才领导者那里得到了答案
There has probably never been a more exciting time to be a talent professional. In the past decade alone there have been dramatic transformations and a redefinition of "work" for almost every region, industry and role – in organizations of all sizes. While transformation and changing expectations of people at work can present challenges, they also present HR leaders with fantastic opportunities.
在过去的十年里,几乎各行各业、不同地区、不同规模的企业组织都经历过对"工作"的重新定义和巨大改革。这些变化和随之上升的工作期望既带来挑战,也为人力资源管理者带来了绝佳机会。
As talent leaders, you face the practical realities of managing this rapid change and adapting your approaches in ways that make the experience at work more personal for every employee, while also ensuring you can deliver what your organization needs, and prove the positive impact of your talent programs.
作为人才领导者,您不仅要快速应对市场变化,不断调整方法为每位员工创造更加个性化的工作体验,还要确保这些与企业的业务方向相一致,证明您的人才计划为企业带来积极影响。
That's where this event comes in.
而这就是本次活动开始的地方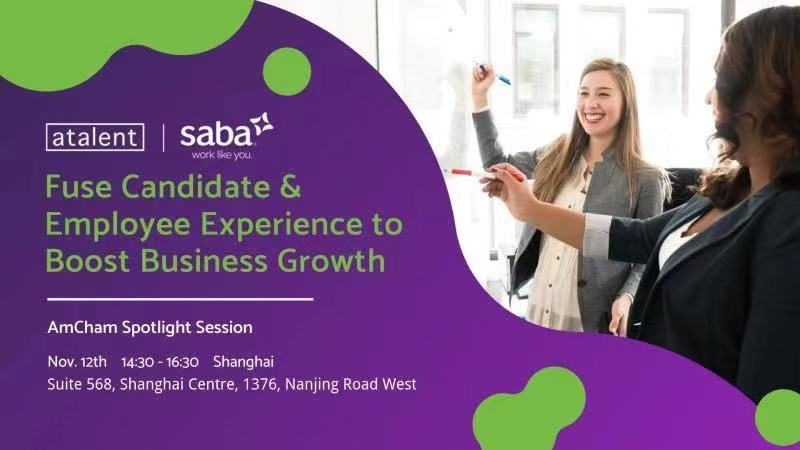 Create a Positive Experience throughout the Employee Lifecycle
在员工的整个职业生涯创造积极的工作体验
We believe the collective wisdom and experience of talent leaders like you speaks volumes about what can be achieved when you place a priority on the people, and their employee experience.
我们相信,像您这样拥有丰富经验和领导智慧的人才管理者必然了解当您将员工和员工体验置于优先地位时,企业将取得怎样伟大的成就。
That's why we partner with global talent management leader Saba again to present you an exclusive "Candidate & Employee Experience" sharing event.
这也是为什么我们再次携手来自美国的全球人才管理领导者Saba,为您带来一场精彩的"候选人 & 员工体验"专题分享会活动。
In this event:
在此次活动中:
We will share the latest released "Employee Experience" handbook which gathers the insight from more than 30 talent management professionals and industry experts from around the world.

我们将详细解读最新发布的关于员工体验的Handbook,浓缩来自全球30多位人才管理专家关于员工体验的洞察

You'll get practical guidance from some of the most progressive, talent-focused organizations including Amex, AstraZeneca, BJC Healthcare, Fujitsu and Vulcan and you'll get provocative ideas and new approaches for managing the employee experience from prolific researchers and writers from organizations like Bersin, Brandon Hall Group, Fistful of Talent, Fosway, HR Examiner, Lighthouse Research, RedThread Research, and Towards Maturity.

·您将获取来自美国运通、阿斯利康、BJC医疗、富士通等国际知名企业最实用的实践指导,还能从国际最权威的研究机构和专家,如Josh Bersin、Brandon Hall Group, Fistful of Talent, Fosway, HR Examiner, Lighthouse Research, RedThread Research, and Towards Maturity那里汲取富有创造性的人才理念和管理员工体验的新方法。

We will also share the most practical cases of aTalent's digital application in improving talent experience for industry leaders, including the adoption of AI and WeChat technology with the deep understanding of comprehensive talent experience journey from candidate CRM, recruitment, onboarding, L&D, succession, etc.

·我们还将分享aTalent为行业领军企业在提升人才体验的数字化应用的真实案例,包括利用AI以及无处不在的微信技术,在众多财富500强客户中打造的从候选人关系,招聘,入职,学习,继任等全方位人才接触点提升体验的深刻理解