Event Details
上海美国商会诚邀您参加于6月16日(周五)下午2:00 - 4:30在上海美国商会会议中心举行的"专业发展-上海美国商会培训项目"的介绍。
本次活动将全面介绍上海美国商会培训计划,并由上海美国商会培训合作伙伴提供的一些标志性主题和课程,以满足您未来公司的培训需求。
AmCham Shanghai invites you to an information session about its Professional Development Training Programson Friday,June 16, from 2:00 p.m. to 4:00 p.m. at the AmCham Shanghai Conference Center.
The event will give an overview of AmCham Shanghai's Training Program, including the various topics that our training partners offer to meet your company's future training demands.
在如今飞速发展的商业环境中,不断拓展和精进职业技能将为你的竞争力持续加分。上海美国商会提供丰富的培训活动,帮助你获得走向成功所需的各类技能。这些职业发展培训计划覆盖一系列不同主题,同时囊括了理论和实践的需求。
In today's fast-paced business environment, a boost in professional skills can provide an invaluable advantage over your competition. The AmCham Shanghai calendar is packed with educational and training events to help you build the skills you need to succeed. These professional development programs cover both theoretical and practical situations on a wide range of topics.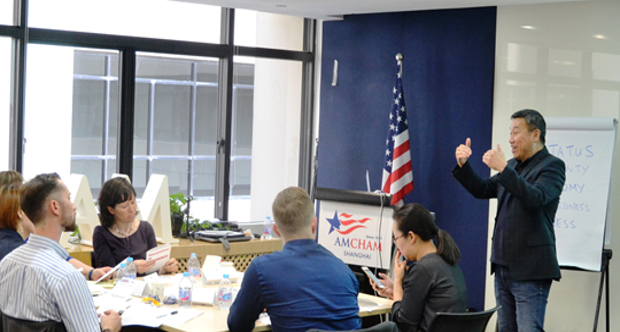 谁应该参加?
Who should attend?
本会议适合任何有兴趣了解上海美国商会培训项目人士前来参加及各单位,企业的HR专业人士。
This information session is relevant to anyone who is interested in learning more about AmCham Shanghai Training Program or for HR professionals in the company.