Home
An internal crisis is an opportunity to correct a mistake,
While an external crisis is an opportunity to push the boundaries.
Due to the current situation, enterprises are facing a fiercer environment of competition with greater uncertainties. The uncertainty of the external environment means that the pace of changes are much faster than ever, so is that of organizations in the new environment. More intense competition brings up higher requirements for the productivity of the organizations.
When there is still a lot of room in the market, the organization and the people in the organization are the core. Executives are thinking more and more about the issues of business growth and transformation in terms of culture and people.
In the face of enormous changes, in addition to growth, more and more outstanding executives have also begun to "introspect", that is, to deeply reflect on themselves. Standing at the peak of their career journey, they are exploring the driving force that stimulates internal development again and the potential of reshaping their future career roadmap.
Given the current crisis, how can global leaders lead the organizations to weather the storm? How to quickly optimize the organizational structure design limited human resources? How to stimulate self-driving force and reconstruct the potential? And how to explore a new realm of life outside of the busy career and prepare for winning the second stage?
On March 28th, 2020 , emlyon business school, a global elite institution, sincerely invites senior executives and business leaders who are willing to challenge the times and continue to grow to participate in the Online information session hosted by emlyon Global DBA(Aisa Track) Program.
This event will definitely inspire corporate executives who are interested in sitting in a DBA program and deeply investigate the tremendous value generated by the combination of organizational management research in the "new era" and global operational strategic capabilities. It is designed to encourage people to start from their own industries and enriched industry practices, to summarize and sublimate new theories and to eventually become new scientist-practitioners.
自身的危机,是改正问题的机会
环境的危机,是突破界限的机会
时势使然,目前企业所面临的是更大的不确定性下的更加激烈的竞争环境。外在的环境的不确定性,意味着企业的变化速度远超以往,因此基于新的环境的组织变化速度也同样远超过往。更加激烈的竞争环境,意味着对于组织的运转效率提出了更高的要求。
在外界市场还有很大空间的情况下,组织及组织里的人是最核心的。公司发展或转型,组织能不能跟得上,文化能不能跟得上,人才能不能跟的上,企业家高管们对于这些问题的思考越来越多。
在巨大的变化面前,除了站在企业发展的角度,越来越多优秀的企业家高管也开始不断"内省",即深刻地反思自我。真正站在自身职业巅峰期发展的角度,来探寻再次激发内在发展的驱动力,探索重构自身未来职业发展的价值潜能。
面对当下的危机,全球领导者如何引领组织逆风飞行?如何在人员有限的状况下快速优化组织结构设计?如何激发自我驱动力,重构自身价值潜能?又如何在忙碌的事业以外探寻人生新境界,为赢得人生下半场做好准备?管理方法论将为企业家高管中年危机带来怎样巨大的价值?
2020年3月28日(周六),法国里昂商学院作为全球化的精英商学院,诚邀有志于挑战时代、持续成长的企业家和商业领袖参加Global DBA项目举办的空中讲坛暨2020级项目交流会。
此次活动定将激发有志于进行DBA学习深造的企业高管,深刻了解"新时代"的组织管理研究与全球运营战略能力相结合所产生的巨大价值,激励大家从自身的行业出发,从丰富的行业实践中来总结和升华出理论新知,成为新时代的学者型产业领袖。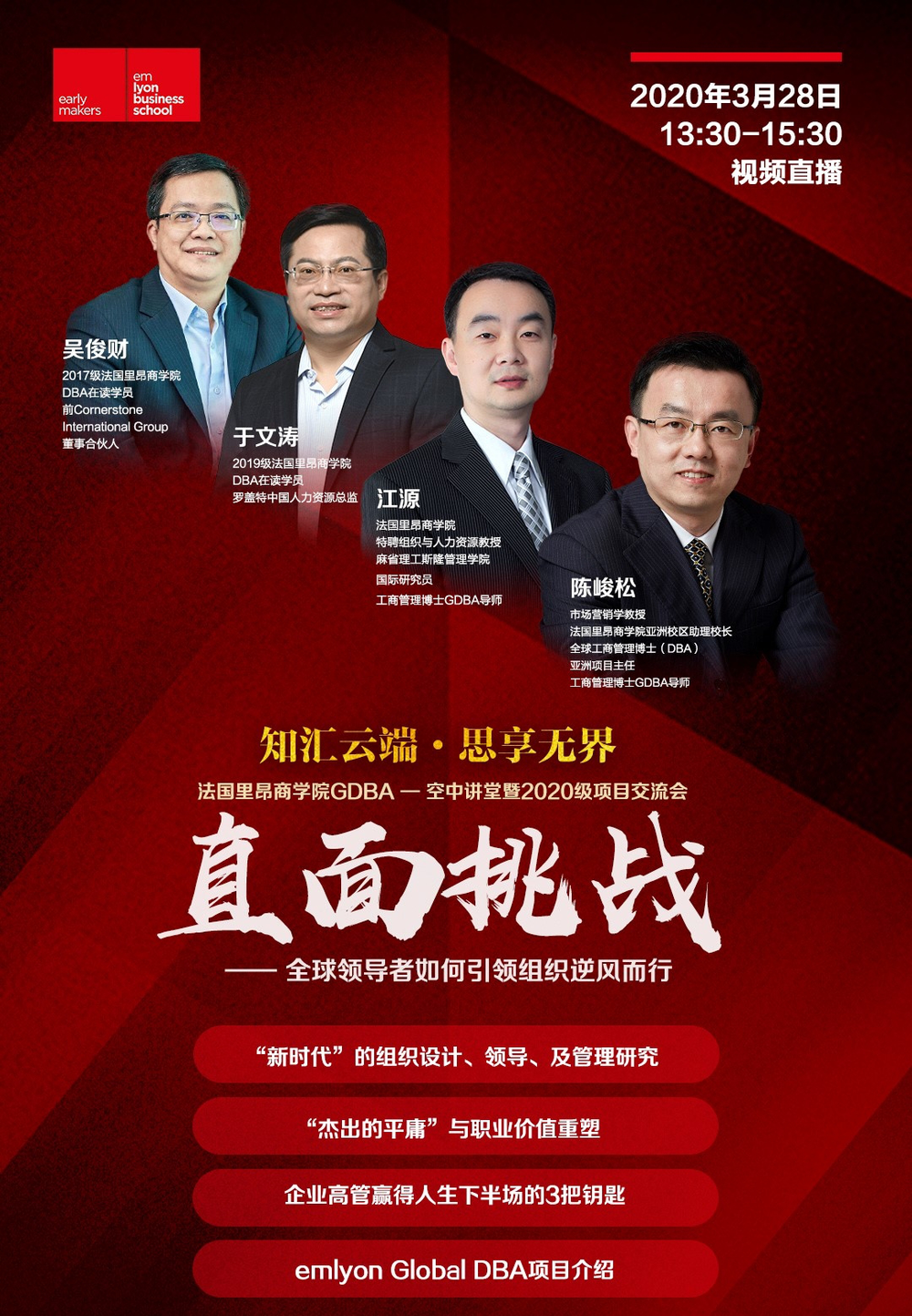 Key words:
In the context of great changes; Organizational structure and design; management research and practices of emerging networked and platform-based organizations
Business executives; Career peak planning
Reshaping the potential of business executives; Exploring new realms of life
How to achieve these goals?
活动关键词
大变局背景下;组织结构与设计;新兴的网络化组织与平台型组织的管理研究与实践;
企业家高管;职业巅峰期的规划
重构企业家高管自身潜能;探寻人生新境界
以上,到底应该如何实现?
Who should attend:
Presidents, chairmen, general managers, Startup founders and other executives